This is my "fridge." If you have a photograph of you doing something food related (cooking, eating, harvesting, marveling at it, etc.) email me
and I'll post it here! Please also include a

sentence or note describing what you're doing, where the picture was taken - including the city - and how I should refer to you (e.g. your first name, nickname, blog name, etc.). If you have your own web-site/blog, let me know and I'll post that, too!
my mail box: earthytoastyspicy@gmail.com
--
Susie in San Francisco sent me some photos of Chinese Chicken Soup along with some remarks. :) That broth looks so flavorful and delicious.
"This is your Chinese Chicken Soup I made! The soup was about a day old when I took these photos. It tasted absolutely delicious. I added some brown rice and stir fried veggies to it too. You were right on the ginger - ginger adds a lot of flavor to the soup and makes a critical ingredient. Overall it was tasty, easy to make and the ingredients were easy to get and easy on the pocket book. I will make it again for sure!"
My adventurous culinary friends in Chicago made chicken parmesan.
They reported back, "We absolutely loved the recipe and cant wait to make more!" Yay!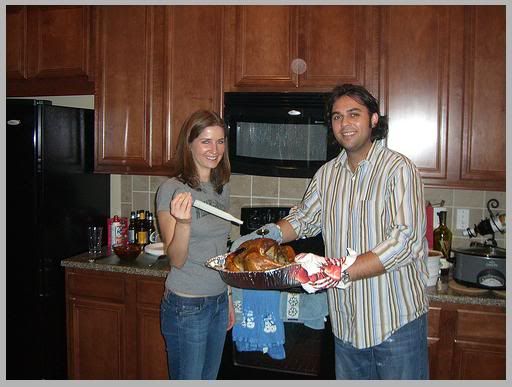 My friend Francisco, cooking Thanksgiving dinner in Raleigh.
That turkey looks mouth watering good!